May is Mental Health Awareness Month, and Moda and Creativity Shell are calling on quilt shops and sewists everywhere to sew for a cause!


Sewing Arts is participating in the Sew a Little Love Bug program to raise awareness for youth mental health.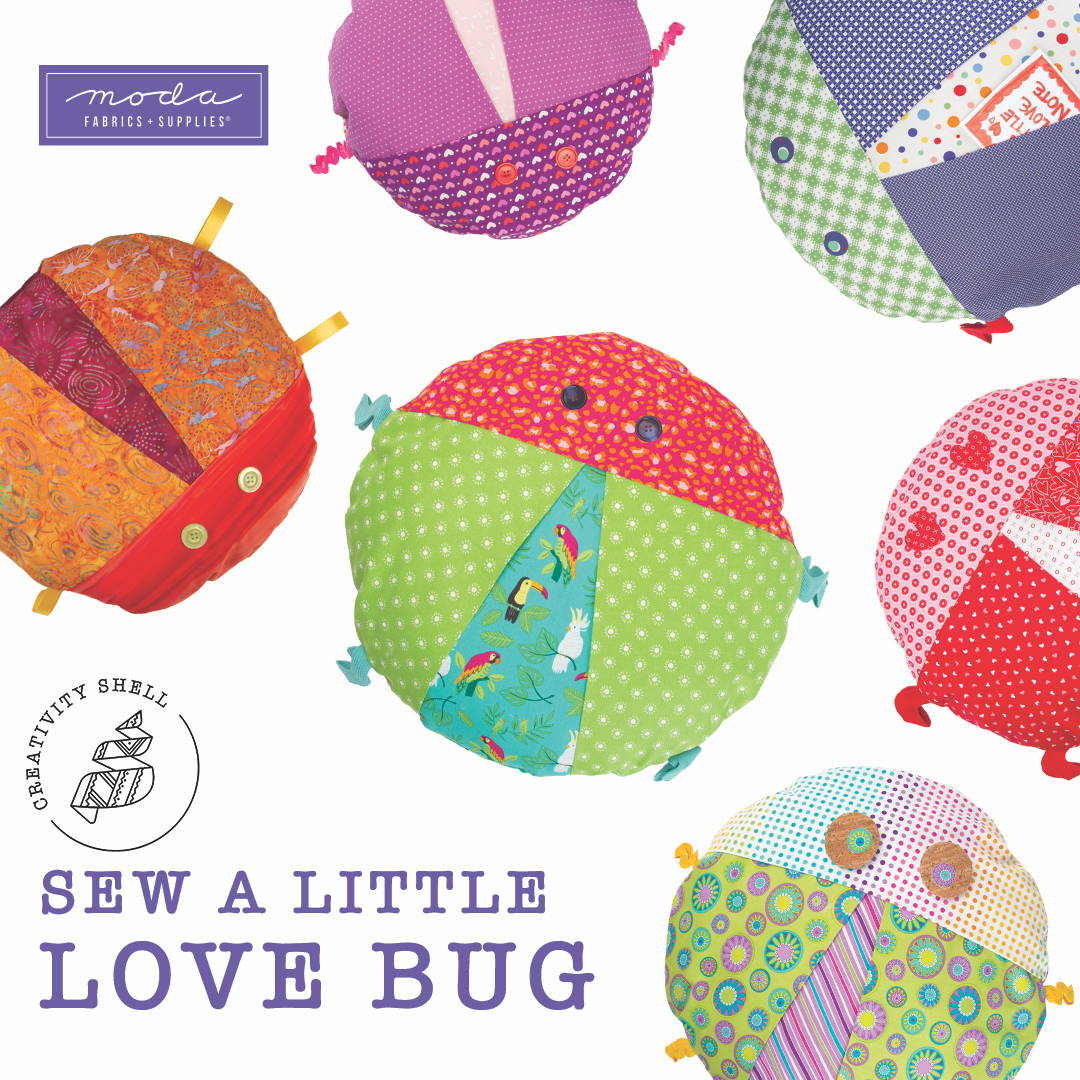 What is the Creativity Shell?
Moda and the Creativity Shell share a commitment to giving back to the community, eliminating inequality, and helping people in need. Their partnership in the Sew a Little Love Bug campaign has grown from a mutual calling to support youth mental health awareness and arts education. The Creativity Shell is a nonprofit organization that teaches classes such as sewing/textile arts, cooking, building and other creative trades to students in their private studios, libraries, schools, ABA therapy centers, the juvenile justice system as well as shelters that rescue children from homelessness and human trafficking. All of their classes are designed to teach children essential life and practical skills.
Why is Youth Mental Health Awareness important?
Strong mental health is a stepping stone to setting up today's children for tomorrow's success. Learning a practical skill, such as sewing or cooking, exposes children of all ages and backgrounds to coping mechanisms and problem solving skills in ways they can carry with them forever. Once a child has learned to create, they have endless potential to support themselves throughout their life, both emotionally and financially, and they are less susceptible to things like: The School to Prison Pipeline; Human trafficking; drugs & gangs; and homelessness.


What is the Love Bug Program?
It has been such a difficult year for children all over the world with schools and activities cancelled because of the COVID pandemic. Their mental health has been tested and Love Bugs might just become the only Bug they want to catch. Did you know that most children in foster programs only have enough possessions to fit in a single bag or pillowcase? A child receiving a Love Bug not only gets a stuffed friend of their own, but receives that reinforcement that someone in their community sees and cares about them. The Love Bug Pattern is a perfect beginner sewing project, which began as a 'Keep One, Donate One' sewing project with a group of Girl Scouts. The pattern uses 5 Fat Quarters, a bit of ric rac/ribbon/bias for legs, buttons or scraps for eyes, and stuffing.
How can you get involved?
You can help! Sewing Arts is offering $10 kits with everything you need to make a Love Bug. We've curated unique bundles using cheerful, kid-friendly fat quarters. This pattern is beginner friendly and quick to make. You can order these kits directly from our website, make a Love Bug, and donate it to a child in need.
Where do I donate in my local area?
Love Bugs can be donated to schools, children's groups, therapy centers, or anywhere kids are. We will also accept completed Love Bugs and donating them to Miriam's House LA, a sober living transitional home for women and their children that allows mothers to get the help they need while maintaining or recovering custody of their children by providing mothers and children with a safe and nurturing environment and comprehensive social services. We will also be donating Love Bugs to Los Angeles's Toy Loan program!
Additionally, children wanting Love Bugs can pick them up at Sewing Arts free of charge!